This Top 15 Things to do in Morocco list offers a diverse range of activities to suit all types of travelers. The glammed-up riad hotels, shopping opportunities, and hammam (traditional bathhouse) soak and scrub experiences. Marrakesh and Fes are some of the main tourist attractions for fans of swish city breaks, but the trails of the Atlas Mountains and the Sahara's desert dunes are the best places to visit for adventure seekers.
Because Morocco is only a short flight away from Europe, many travelers come for a shorter vacation, focusing on one or two places and activities. Extending your stay gives you the option of combining city sightseeing with a trip to the beach, mountain scenery, or an overnight stay in the sand dunes.
With our list of the top things to do in Morocco, you'll know what not to miss on your trip.
Due to recent global health and safety challenges, certain businesses may be temporarily shuttered.
Top Things To Do in Morocco
1. Take a City Break in Style in a Marrakesh Riad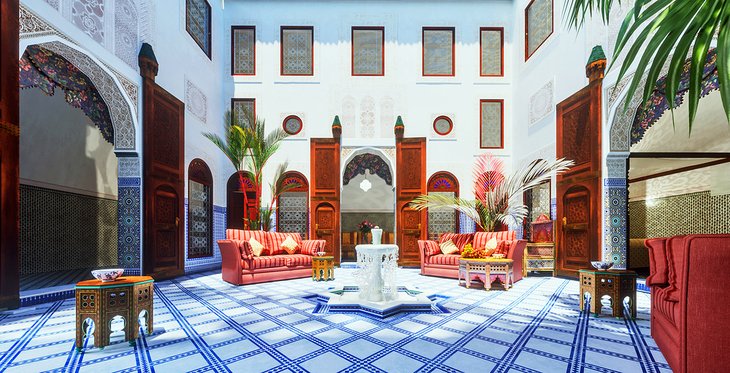 The accommodation in Marrakesh is an attraction in and of itself, and staying in one of the medina's (ancient town's) riad hotels is one of the top things to do on a city break here for many people.
A riad is a classic Moroccan medina residence with a central courtyard garden. Wood ceilings, Tadelakt (polished lime plaster) walls, traditional zellij (ceramic tile) features, and brass swinging lamps are among the many that have been restored to finery and offered as hideaway modest hotels with swags of traditional Moroccan artisan expertise on exhibit.
Marrakesh's riad hotels are tucked away in the medina's back alleyways, with rooftop terraces and internal courtyards (some with plunge pools) to rest in. They're also fantastic bases for exploring the medina.
2. Photograph the Famed Blue Alleys of Chefchaouen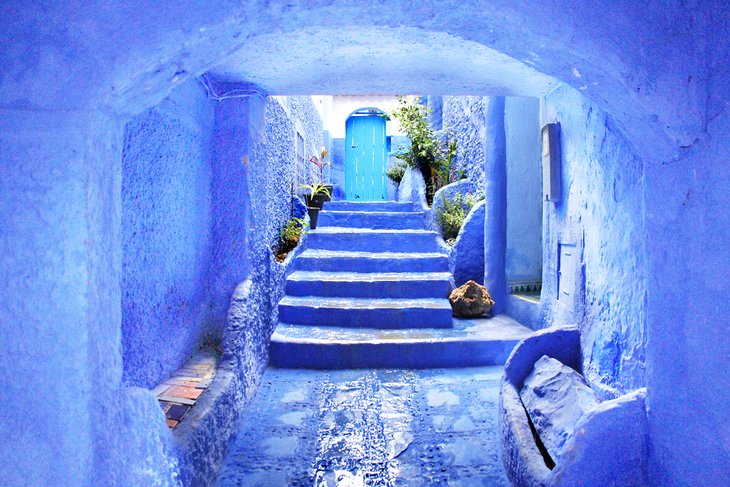 Chefchaouen is the most famous village in Morocco's Rif Mountains, with its alleys and walls bathed in blue tones, making it one of the most photographed sites in the country.
The village is located near Tetouan, 197 kilometers northwest of Fes and 112 kilometers southeast of Tangier, making it a convenient stop on a trip through northern Morocco.
The major activity in town is simply exploring the narrow alleys and taking in the ambiance, though there are plenty of treks in the Rif Mountains to choose from once you've marveled at the colorful streets.
The Muslim and Jewish immigrants who were driven from Spain in the 15th century and settled in Chefchaouen gave the city its distinctive architecture, which includes Spanish-style balconies and ceramic-tiled roofs. The blue tint of the buildings, on the other hand, dates from the 1930s.
3. Sleep Under the Stars at Erg Chebbi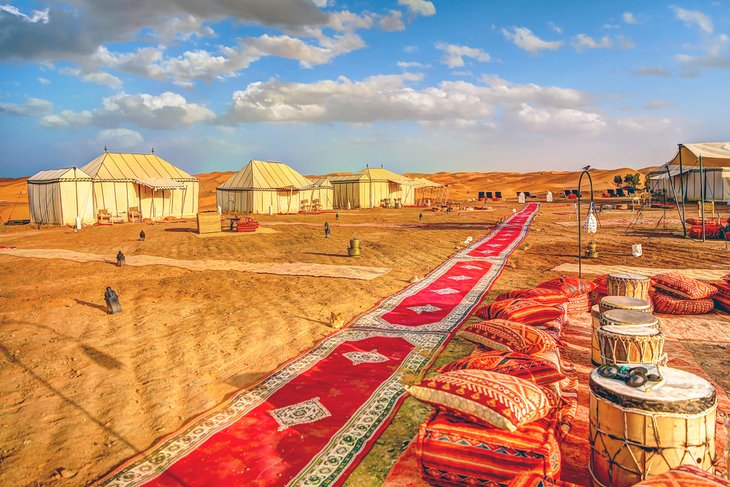 One of the most things to do in Morocco is Head to Erg Chebbi for a desert adventure that doesn't need you to rough it. Glamping-style desert camps provide an overnight stay inside the Sahara dunes.
Merzouga is Morocco's most popular desert activity base, located on the edge of the Erg Chebbi dune sand sea (559 kilometers east of Marrakesh and 467 kilometers southeast of Fes). People take sunset or sunrise camel rides into the Sahara scenery from here and sleep at glammed-up desert camps within the undulating dunes.
Dinner, breakfast, and a camel walk are included in the standard Erg Chebbi desert camp package. Those who want to scramble up the nearby dunes to investigate them usually have plenty of time at camp. As an optional extra, four-wheel-drive expeditions into the sand sea (which spans around 28 kilometers) are available.
4. Hike Jebel Toubkal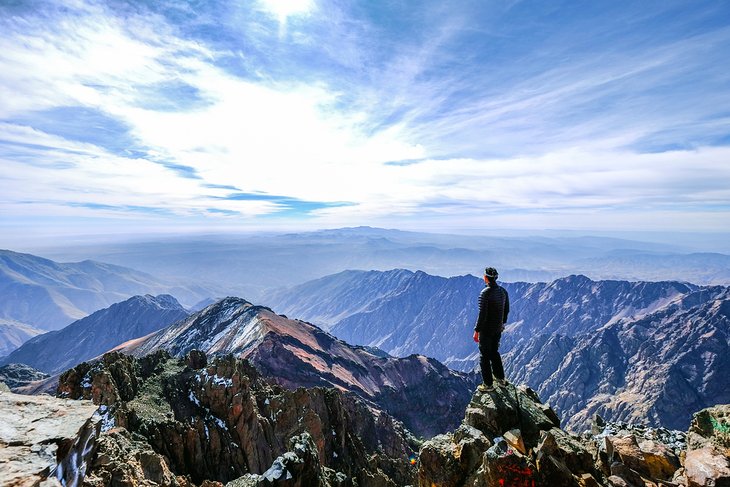 The next 4 things to do in Morocco is Jebel Toubkal, with a top elevation of 4,167 meters, Jebel Toubkal is the tallest mountain in North Africa. The two-day return climb to the peak is the most popular hike in the High Atlas, as well as one of Morocco's most popular pastimes.
It's a non-technical trek (no climbing), however, it does require trudging across scree slopes in the upper reaches. It also takes place at a high altitude, and the walk might be challenging, so you should be somewhat fit. The breathtaking vistas throughout the walk and at the summit, however, are well worth the effort.
Instead of doing the two-day ascent, enthusiastic hikers might traverse the Toubkal Circuit. The Toubkal Circuit is a seven-day hike that passes through most of the neighboring High Atlas area before reaching the peak of Jebel Toubkal.
Jebel Toubkal is located in Toubkal National Park, and the settlement of Imlil, located 67 kilometers south of Marrakesh, is the major hub for organizing hikes and other activities in the area.
Read More: Top Things To Do in Hight Atlas
5. Shop amid the Medina in Fes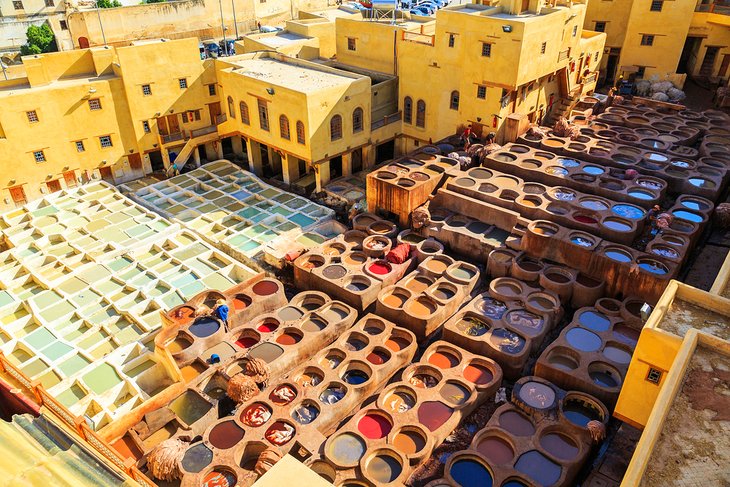 The Top 5 things to do in Morocco is Fes the country's indisputable craft center, despite the fact that Marrakesh remains the most popular Moroccan city-break destination and attracts many travelers simply for its shopping.
You'll discover artisan workshops manufacturing traditional copperware and carpentry, dyeing leatherware (the tanneries of Fes are one of the most photographed sights within the medina), and the famed blue and white Fassi ceramics within the maze-like boundaries of Fes' high-walled medina (named Fes el-Bali).
When shopping in Fes medina, stay away from the well-traveled tourist lanes, where most shops and kiosks sell souvenirs or pricey handicrafts. The best shopping may be found in the artisans' workshops, which are tucked down back alleys.
6. Treat Yourself to a Traditional Spa Break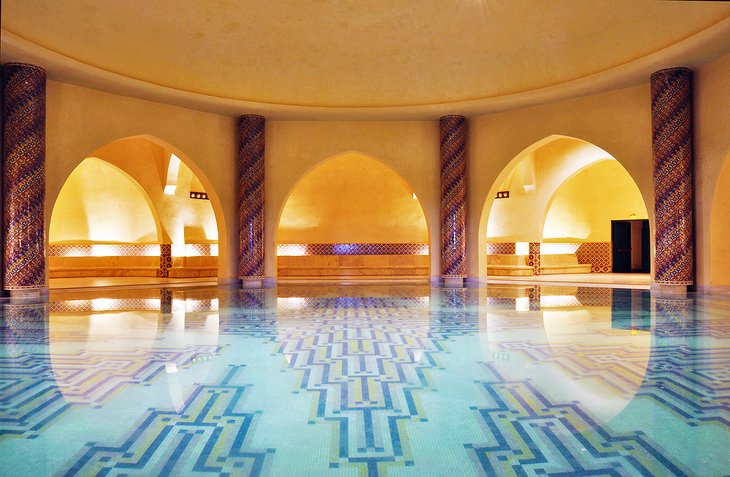 One of the most things to do in Morocco for many travelers visiting Morocco is to visit a hammam. A hammam is a traditional Moroccan bath with distinct rooms where guests can bathe and steam before being scrubbed (typically with Rhassoul clay from Morocco).
Because many homes did not have their own baths, hammams played an important role in life. With their distinctive domed ceiling architecture, the historic traditional hammams found in the medinas of Fes and Marrakesh still offer a distinctly Moroccan-style spa experience.
Some have expanded their services to include therapies, massages, and aesthetic treatments, in addition to the typical soak, steam, and scrub. Hammams can be found in towns and cities all over Morocco, but the most well-known are in Marrakesh and Fes. Many five-star hotels also have their own hammam.
7. Relax on the Beach at Agadir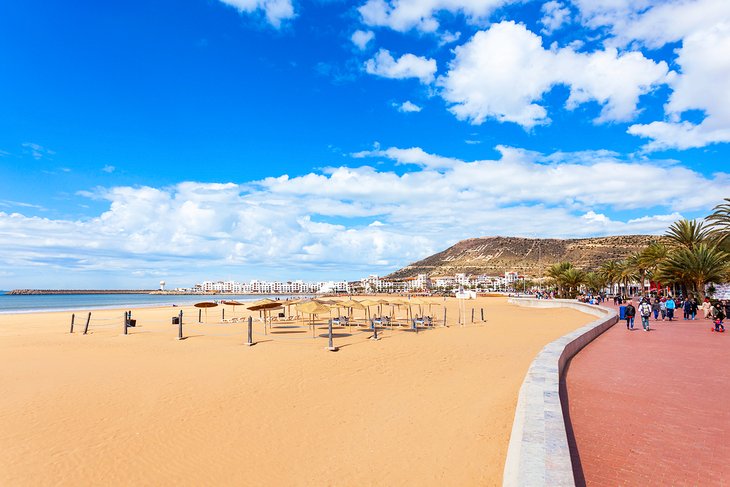 Top next exciting 7 things to do in Morocco is Agadir is Morocco's main beach resort, and most visitors don't leave their sun loungers. A trip to Agadir is all about the sun, sea, and sand, and the majority of visitors have booked a one- or two-week package vacation.
The city is surrounded by a long stretch of beach, part of which is free to the public and others which charge an admission fee. Each of the larger seaside hotels has its own private sand section for guests.
Summer is the main tourist season, although Agadir is also a popular spring break destination for European families during the Easter vacations and the European mid-winter school breaks when the weather is still pleasant.
8. Book a Camel Trek to the Dunes of Erg Chigaga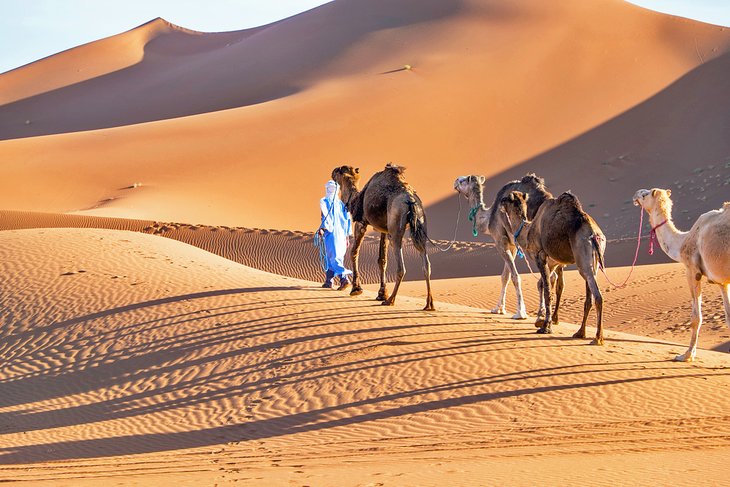 We can miss the most exciting things to do in Morocco are Erg Chebbi a convenient desert escape, Erg Chigaga's sand sea is a more daring option.
Morocco's greatest sand sea is a 40-kilometer length of huge desert dunes, and a visit here delivers a considerably less crowded desert experience.
The oasis village of M'Hamid (448 kilometers southeast of Marrakesh), which is about 50 kilometers from the Erg Chigaga dune area, serves as a base for desert activities. Travelers depart from M'Hamid on multi-day camel treks to the sand dunes or 4WD adventures (if they have less time).
The permanent desert camps in the Erg Chigaga dunes are widely dispersed around the area, making overnighting in the desert here more solitary than at Erg Chebbi, which is ideal for nature lovers and stargazers.
Some of the camps, like Erg Chebbi, are elegantly designed with guest comfort in mind, so you don't have to rough it even if you're trying to avoid the throng.
Read More: 16 Top-Rated Attractions & Things to Do in Marrakech
9. Explore the Colorful Alleyways of Moulay Idriss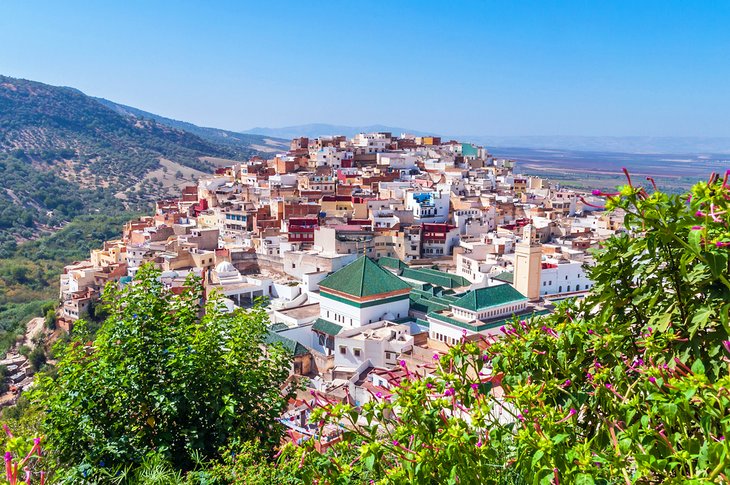 The pastel-painted alleys of Moulay Idriss slope up the hillside surrounded by lush forest, making it one of Morocco's finest villages and an important Muslim pilgrimage site.
It's a fantastic base for a trip to the Roman remains of Volubilis, which are only 4.5 kilometers to the northwest of the settlement, after exploring Fes (65 kilometers to the east) or Meknes (31 kilometers to the south).
Moulay Idriss (the Prophet Muhammad's great-grandson) died here, and pilgrims from all across Morocco come to pay their respects. The major attraction of the village for non-Muslim visitors (who are unable to reach his tomb) is the breathtaking views and walking the narrow lanes.
10. Shop the Souqs in Marrakesh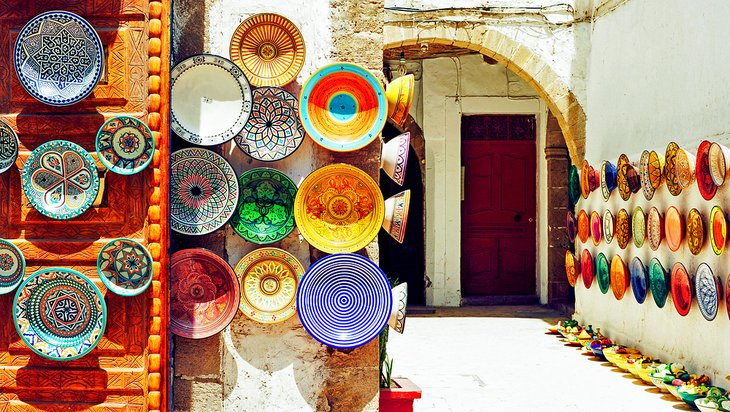 The top 10 things to do in Morocco are the souqs (market streets) of Marrakesh's medina are known for their stalls selling handicrafts from all over Morocco and artisan workshops producing metalware and wooden products.
The medina of Marrakesh has become a favorite sourcing location for boutique owners from all across Europe and North America. In addition, the medina houses boutiques for a number of Moroccan homeware and fashion designers, as well as local skincare firms specializing in goods made with native argan oil.
The city's blend of modern and traditional has made it a great shopping destination, with everything from traditional zellij tile work to contemporary Moroccan couture and argan oil facial serums to carpets and copper bowls.
Tourist trinkets are sold along the main thoroughfares that all tour groups pass through, such as Souq Semmarine. To get the best shopping, venture off the major souq lanes.
11. Road Trip the Tizi n' Test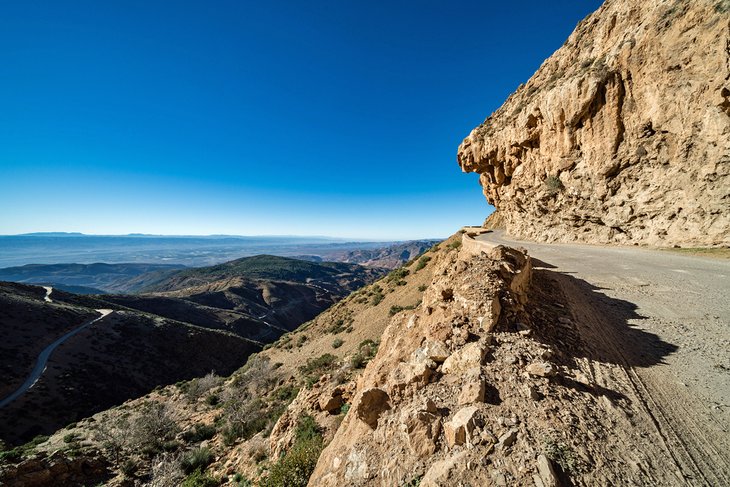 Built in the 1920s to connect Marrakesh with Taroudant (sometimes spelled Taroudannt), 226 kilometers to the southwest, the Tizi n' Test is Morocco's most famous mountain pass road. It is the country's top 11 must-do Things to do in Morocco for self-drivers in Morocco.
It's a highly scenic ride with stunning mountain views along the route if the weather is good, as the pass rises up to 2,029 meters via hairpin curves and then spirals down via additional hairpin bends. Be advised, however, that due to its great altitude, the pass is occasionally obscured by clouds.
A few of the views with coffee are located along the journey, providing much-needed coffee and rest after the nerve-wracking trip.
Taroudant is a lively medina town in the Souss area and the starting point for exploring the Anti-Atlas region farther south.
12. Trek the Anti-Atlas from Tafraoute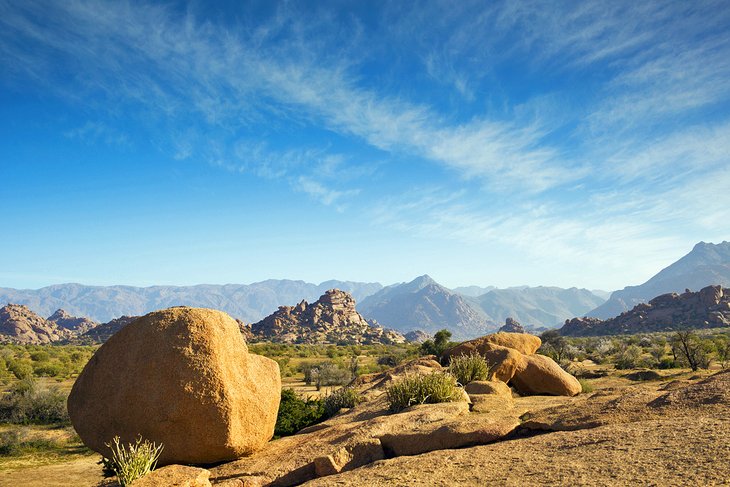 Tafraoute in the list of 12 things to do in Morocco, located in the Ameln Valley, is a great starting point for trekking and cycling in the Anti-Atlas valleys and mountains.
Hiking through the fertile orchards, farmland, and towns of the Ameln Valley before ascending to the summit of Jebel L'Kest makes for a highly photogenic week-long walk that offers a taste of Moroccan rural life as well as breathtaking vistas.
Jebel Siroua and Jebel Aklim, both located further out in the Anti-Atlas from Tafraoute, provide multi-day hikes across terraced hillsides between secluded communities and expansive mountain views.
13. Windsurf at Sidi Kaouki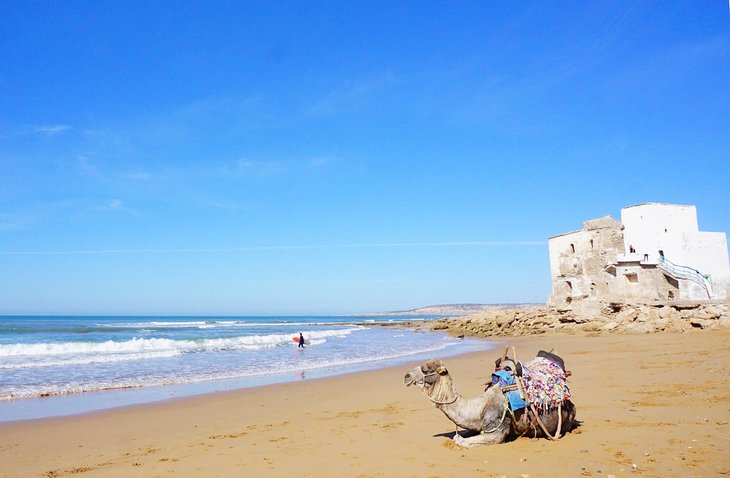 The Exciting 13 things to do in Morocco That visitors come to enjoy the sea breezes and explore the medina, Essaouira's prevailing winds have made it a popular windsurfing, kitesurfing, and surfing destination on Morocco's Atlantic Coast (191 kilometers west of Marrakesh).
Sidi Kaouki, a little seaside village 25 kilometers south of town, is dedicated to windsurfing, kitesurfing, and surfing vacations, with numerous training and packages available, as well as equipment rental.
Essaouira boasts a nice beach with plenty of stormy winds and surf shops right on the sand for a holiday that isn't focused on water sports.
14. Mountain Bike or Hike the Ounilla Valley Area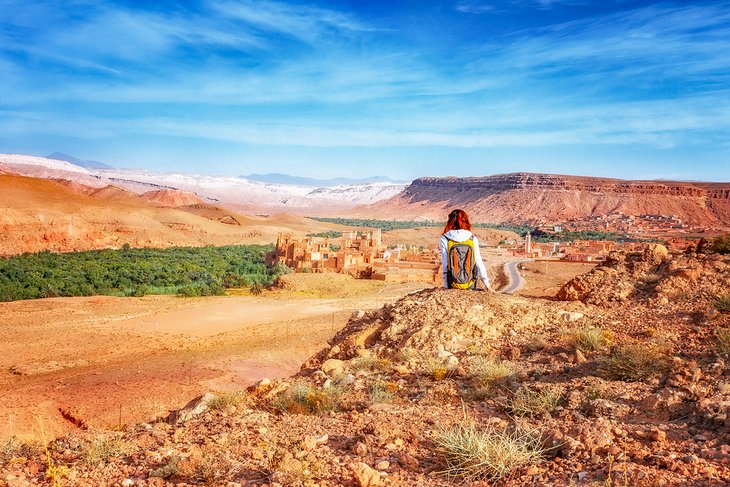 The routes here are ideal for mountain bikers, hikers, and off-road drivers. They wound their way through a fertile valley of orchards and farmlands, dotted with isolated towns and decaying mudbrick kasbahs (forts) and ksars (fortifications) (fortified villages).
This High Atlas valley spans from Telouet (127 kilometers southeast of Marrakesh) to the UNESCO-listed ksar of Ait Benhaddou, which is the main historic landmark and attracts many day-trippers, but the valley itself is a tranquil slice of rural life with few other visitors.
Multi-day treks or bike journeys can be arranged, or Telouet or Ait Benhaddou can be used as a base for day walks and bike rides to explore the surrounding area.
15. Wander through Aït Benhaddou
At Benhaddou, a UNESCO World Heritage Site that appears to be carved into the mountain itself are possible things to do in Morocco and one of my favorite sites in Morocco.
This little settlement, called locally an Ighrem (akin to a walled and protected village), was previously utilized as a rest station for traders passing through the desert.
Despite the fact that just a few people live here now, it is nevertheless a stunningly beautiful place to visit. Just remember to get there early to escape the throng (and that intense midday sun).