Morocco's beaches offer more than just sun and water. Agadir, the country's major resort town, is just a short flight from Europe, and it attracts many Europeans for a simple summer sun-and-sand vacation, but for many other visitors, Morocco's beaches are all about the surfing. The Atlantic Coast's wild and windy beaches are known for their surf, and with so many surf schools, this is a wonderful area to learn.
Many of Morocco's beach towns and resorts are close to the country's most famous historical sites. Day trips into the Anti Atlas can be taken from the southern Atlantic Coast. while the central Atlantic Coast provides easy access to Marrakesh, so if you're looking for a vacation that combines sunbathing with cultural sightseeing, you're in luck.
For ideas on the best places to visit by the sea, check out our list of the top beaches in Morocco.
Note: Some businesses may be temporarily closed due to recent global health and safety issues.
1. Agadir Beach
Agadir, Morocco's southern Atlantic Coast city, is the country's most well-known beach resort town. For decades, European tourists looking for a relaxed and reasonably priced family-friendly beach vacation have flocked here. Agadir's trailing stretch of golden sand rims the length of the city center, giving visitors plenty of options.
If you want full facilities and easy access to cafés and restaurants while on the beach, visit one of the two private sections known as Palm Beach or Sunset Beach. These two strips, located in front of Agadir's central tourism district, promise easygoing days of sun and sand.
Hotels right on the beach have their own private stretch of sand. For visitors looking for resort living with a beach, pool, excellent service, and rooms imbued with a stylish Moroccan aesthetic, the five-star Sofitel Agadir Royal Bay Resort Hotel is the pick of the bunch.
The Iberostar Founty Beach, on the other hand, steals the show for traveling families, with a focus on activities and entertainment geared toward children, a large pool area, and a great swath of sand out front.
2. Mirleft Beach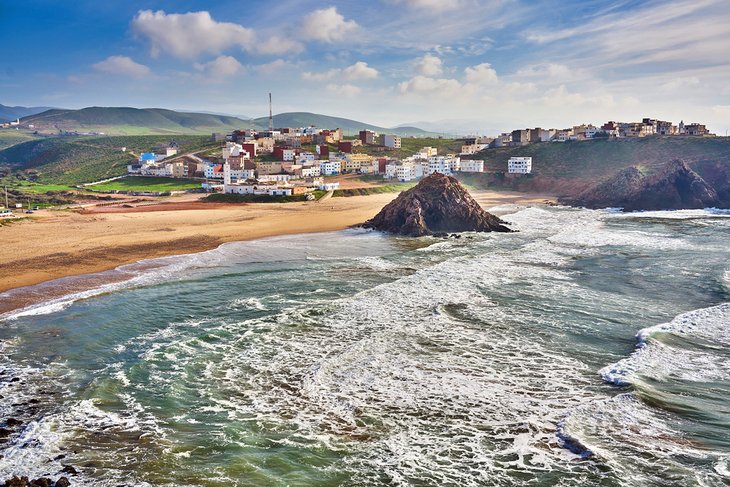 Little Mirleft, located 129 kilometers south of Agadir, may not be as well-known as its northern neighbor. But for independent travelers who don't want a package vacation, beach life on the southern Atlantic Coast is better.
There are several beaches to choose from, the majority of which are surrounded by a rim of craggy rocks and cliffs. The central and most popular option is the wide swath of Imin Touriga Beach.
Mirleft has a burgeoning activity scene, and most visitors aren't looking for a beach vacation that consists solely of sun-soaked lounging.
Many visitors head here to learn to surf, with plenty of surf school operators offering five-day lesson packages, as well as equipment rental. There's also sea fishing and paragliding, and the town is a good starting point for exploring the Anti Atlas region inland.
Mirleft has a good selection of small guesthouses and boutique hotels. Dar Najmat on the beach is the best option, with seven comfortable rooms and a pool with the best view of the Atlantic Ocean in town.
3. Essaouira Beach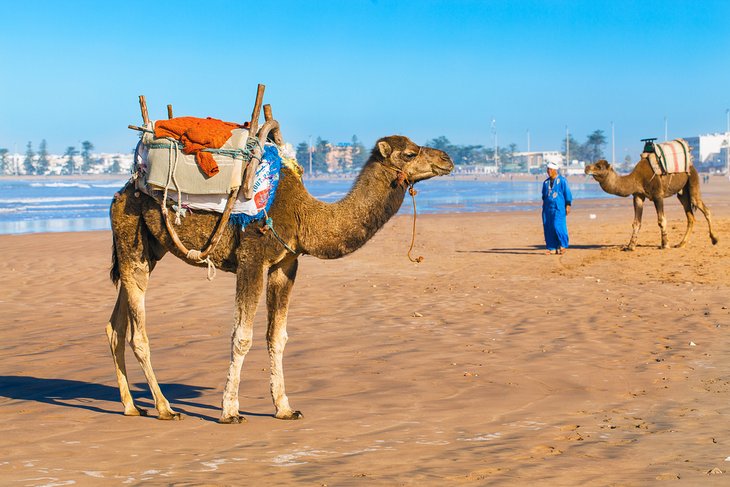 Want to relax on a beach while also exploring some of Morocco's many historical sites? Essaouira, please take a seat. This small town is an excellent compromise.
The central walled old town is a maze of wriggling alleys and a UNESCO World Heritage Site, with sturdy seafront ramparts that keep the waves of the Atlantic Ocean at bay.
The beach stretches for over five kilometers along the coast, just south of the old town walls. Beachgoers should be aware, however, that the high winds that blow along this stretch of coast make Essaouira unsuitable for sunbathing vacations.
The beach here, on the other hand, is for water sports. Windsurfing and kitesurfing are popular among visitors, with several operators offering beginner lesson packages as well as equipment rental in Essaouira and Sidi Kaouki, 25 kilometers to the south.
Staying in Essaouira's old town is ideal for boutique hotels in restored mansions. The Madada Mogador is a great option, decorated in a stylish mix of modern and traditional styles, with views of both the beach and the hustle and bustle of the old town.
4. Legzira Beach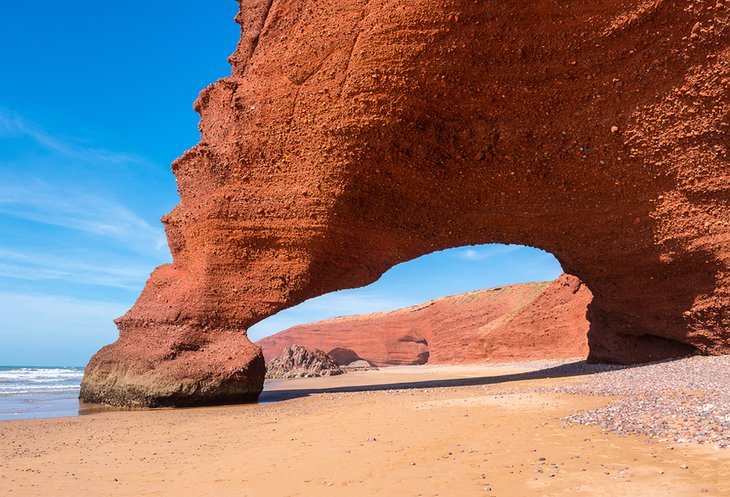 Legzira Beach, one of Morocco's most picturesque stretches of sand, is located 10 kilometers north of the blue-and-white old Spanish Sahara port of Sidi Ifni.
Unaffected by tourism development, the beachfront here exudes a solitary allure, accentuated by a dramatic, wave-lapped rock formation arcing over the sand. The best time to visit is at sunset when the jagged rocks glow orange in the fading light.
There are few amenities here, but a few seafood restaurants serve meals and refreshments. Pack a picnic and come here for the afternoon from Sidi Ifni or Mirleft, 23 kilometers north.
5. Oualidia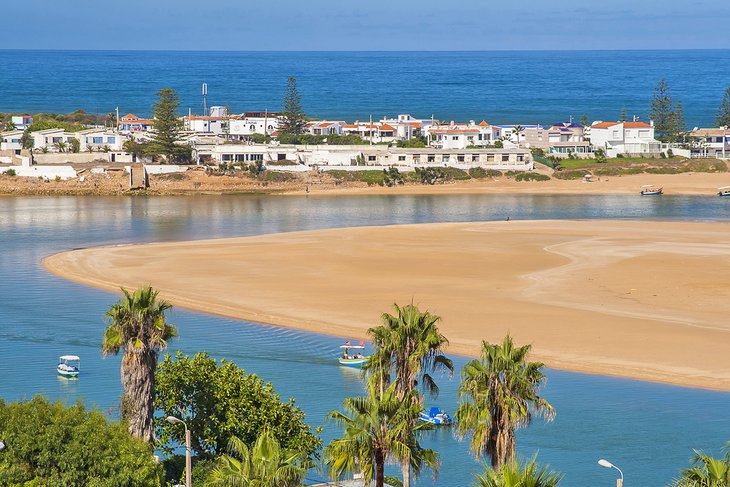 The water in Oualidia is much calmer than in other resorts along the Atlantic Coast because it surrounds a secluded lagoon. It's a great place to go swimming and a fantastic, safe option for kids who enjoy being in the water.
The crescent-shaped, golden-sand bay is a favorite holiday destination for Moroccan families, and it sometimes feels like half of Casablanca (176 kilometers north) has decamped here for a day at the beach during July and August weekends. However, if you visit outside of peak season, you may have much of the beach to yourself.
For those who tire of basking in the sun. Water sports vendors on the beach rent stand-up paddleboards and kayaks, however surfing (past the lagoon's breakwater) is the most popular pastime.
With Marrakesh only 186 kilometers to the southeast. Oualidia beach holiday is a simple add-on to a trip visiting Morocco's famous Red City and its labyrinthine old town – it's a good choice if you want to do more than lounge on the beach on your vacation.
6. Moulay Bousselham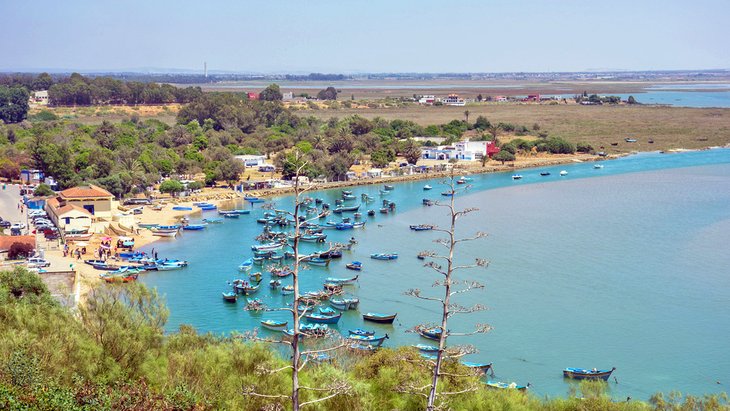 During August, the curving, sandy spit of Moulay Bousselham, which stands just at the tip of town, is bustling with local vacationers. Despite its popularity, it's crucial to remember that the beach is best for sunbathing rather than swimming. Swimmers should be cautious because the coast area is infamous for its strong riptides.
Temara Beach, 15 kilometers south of town, is Moulay Bousselham's other prominent sandy strip. Swimming is not recommended for little children or people who are untrained in the water, however, surfers will enjoy the good wave action on this beach.
Moulay Bousselham is a peaceful little town outside of the summer, with visitors more likely to come to bird-watch in Merja Zerga National Park's lagoon and marshlands than to lay their beach towel on the sand. Combining a couple of beach days with some bird watching is a great option for nature-loving vacationers.
7. Asilah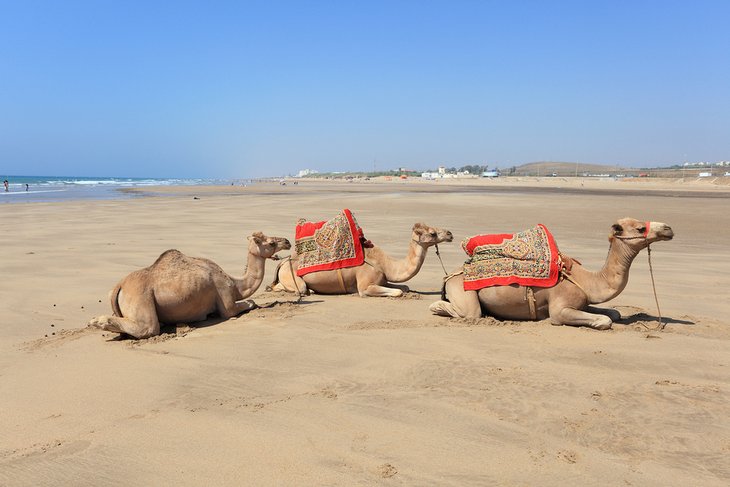 Asilah is popular among budget travelers because of its laid-back atmosphere. Asilah offers plenty of opportunities to mix beach time with more cultural touring, with the old town's walls directly facing a curve of sand.
You might easily come here as a day trip from Tangier, 46 kilometers to the north, and spend a couple of days exploring Asilah's narrow old town streets, which are bordered with jaunty white-and-blue buildings that are enticing photographic fodder. While the rubbish on Asilah's principal beach detracts from the experience, there are lots of sandy beaches nearby where you may relax and swim.
Seven kilometers south of town, Paradise Beach is a good swimming and sunbathing spot, with free sunshades placed along the shore and a lifeguard on duty during the summer months. Other amenities on Paradise Beach are limited, so bring a picnic and some drinks.
In the summer, Asilah and the surrounding coastline fill up with Moroccan beach bums, so come in the spring or fall to avoid the throng.
Read More: Top Desert Cities in Morocco
8. Achakar Beach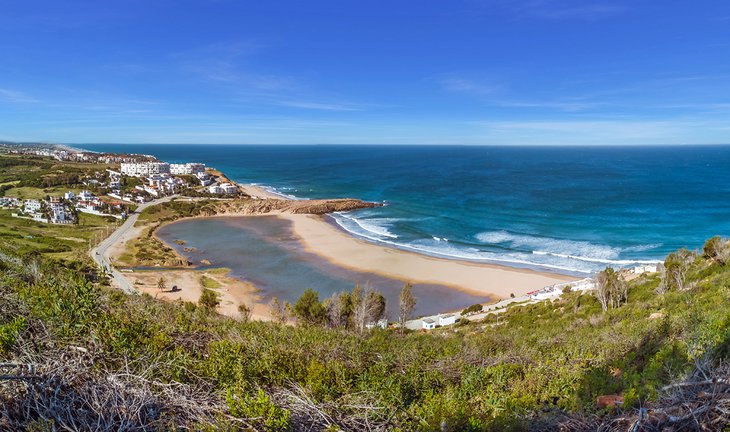 Achakar Beach is only 15 kilometers west of Tangier, but it feels like a world away. The sandy strip here is a great place to spend a relaxing day at the beach in between visiting Tangier's ancient sites.
Achakar Beach is a large strip of golden, compacted sand backed by green, gently sloping hills, located near the northern extremity of the sand by the cliff of Cap Spartel, which marks the point where the Atlantic Ocean meets the Mediterranean Sea.
There are free sunshades on the sand and a great beachfront café for when you feel hungry, but there isn't much else, so remember to carry all of your beach essentials. Make a point of walking down to the beach's southern end to visit the Hercules Caves. The god Hercules is claimed to have lived in this grotto, according to local folklore.
9. M'Diq & Cabo Negro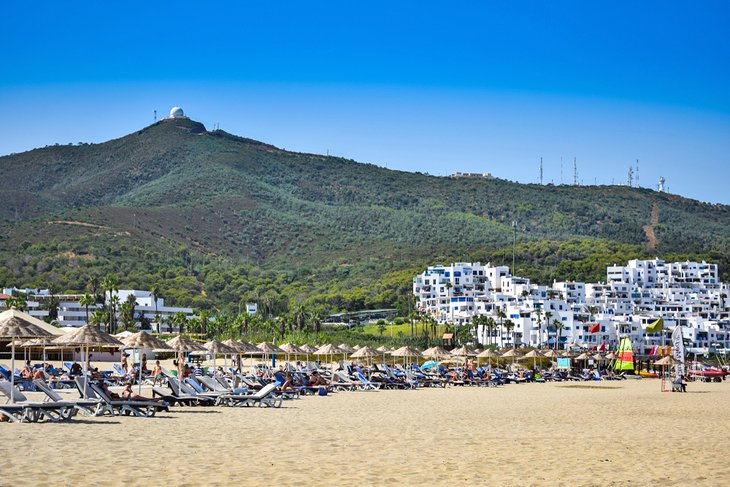 The most developed beach region on the Mediterranean Coast is made up of the two neighboring villages of M'Diq and Cabo Negro (13 kilometers northeast of Tetouan), separated only by a protruding, rocky peninsula covered with pine trees.
M'Diq has a long, wide stretch of shingle and sand, surrounded by the undulating green hills of the headland, with cafés, restaurants, and moderate housing lining the sand.
Cabo Negro, about southeast down the coast, is a more affluent option, featuring resort-style lodging, a golf course, and a better beach. The soft sand here runs for a few kilometers along the shore and is shallow at the water's edge, making it ideal for families with little children.
There is something for every budget and style of traveler in M'Diq and Cabo Negro, with accommodations ranging from midrange small hotels to major resorts.
10. Martil Beach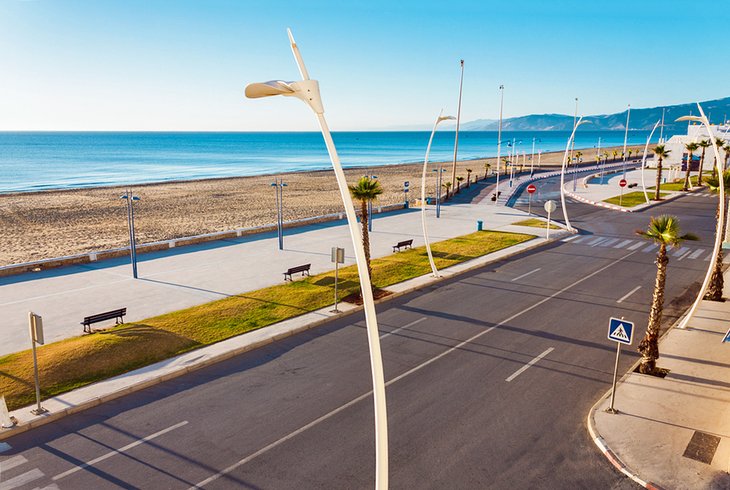 The modern port of Martil, only 10 kilometers east of the UNESCO World Heritage-listed medieval town of Tetouan, is a popular summer destination for local beachgoers. Although foreign visitors are few, a visit here is an excellent add-on for fresh sea breezes, sandy strolls, and a dip in the water if you're touring the Rif Mountain area inland. If you're staying in Tetouan, you can easily visit it in half a day.
Because Martil caters to the domestic tourism sector, there are a slew of vacation apartment constructions, but the town also has a few fine midrange and cheap hotels along the sand's small but lengthy stretch. From June to August, Martil's cafés and restaurants are packed with Moroccan families who picnic on the beach.
Read More:Best Day Trips in Morocco
11. Oued Laou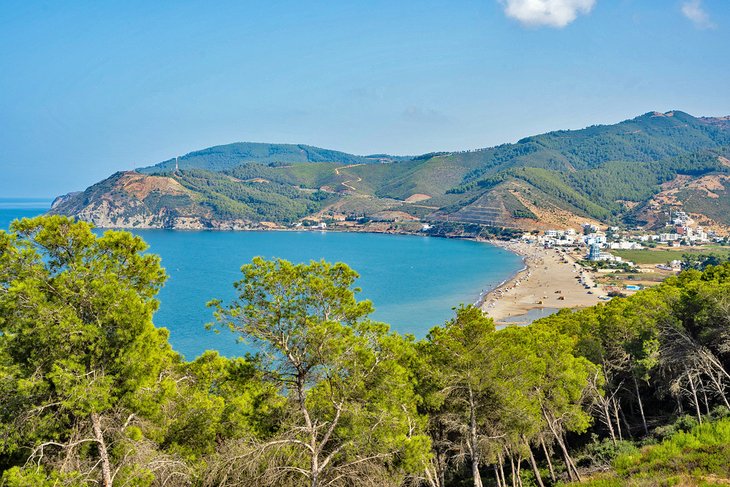 Oued Laou (48 kilometers southeast of Tetouan) is a laid-back Mediterranean beach town with a low cost of living. The beach is primarily shingle rather than sand, so it's best for walking and swimming rather than lounging, but colorful fishing boats bob in the crystal blue water, and jagged cliffs on either side of the gentle curve of bay offer trekking and scrambling opportunities.
There's not much to do here besides relax, go swimming, or take a boat ride, and watch the sun set from the cliffs. You've come to the correct area if you're seeking for a taste of old-fashioned beach life, complete with quaint, family-owned guesthouses and delicious seafood at cute local restaurants.
12. Saidia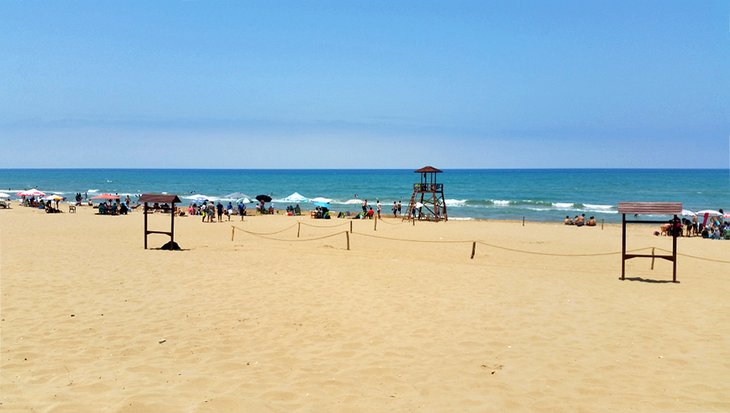 Saidia is a five-kilometer length of Mediterranean beachfront that runs parallel to Morocco's Algerian border, taking over the remaining swath of sand on the country's Mediterranean coast. Much of the seafront's trailing length has been taken up by holiday villa and apartment projects aimed at repeat visitors, but the Saidia Med sector, located at the resort's western end, caters to more casual vacationers.
A handful of five-star resorts along the shoreline in Saidia Med, catering to a fashionable population who go to the long golden-sand beach every July and August. Saidia Med, which caters to a more affluent audience, also has a golf course and a boat marina.
14. Dakhla Beach
Dragon Beach, in the contested Western Sahara region of the Dakhla Peninsula, juts out into the Atlantic Ocean beside the African coast, with crystal-clear waters and white sand dunes. Dragon Beach is a little island in the middle of a blue lagoon that is ideal for water sports enthusiasts and environment lovers alike.
The sand is so white that it glistens, creating a desert-like beauty. While you rest in a beachside hammock at the beach bar, little birds flit and dive down the coast.

Allow the hours to pass while you catch a breeze on the rustic beach swings that have been set up here, and wait until sunset to see the beach's hypnotic beauty. The prestigious Kitesurfing World Championships are held here every year, so if you happen to be in the region at the proper time, you might be in for a treat.
Read More: Sahara Desert
13. Sidi Kaouki
20Sidi Kaouki beach, where calm and ancient ways of life merge, is the place to go if you're seeking for somewhere off the beaten path and unspoiled by development. This natural beach is mostly wild, with sand dunes and plants creating a desert oasis by the sea — without the high winds of the nearby Essaouira beach.
Sidi Kaouki's idyllic seclusion adds to the allure of this beach, making it one of the best-kept secrets in the area.
The surrounding region, which is near to a Berber community, is plain and uncomplicated. Surfers come here to ride the large waves and relax in the no-frills cafes and restaurants. There are a few sunbeds scattered around the beach for sunbathers, and if you want to try something different, you can even take a camel ride across the dunes.
6. Ain Diab, Casablanca Beach
Ain Diab, Casablanca's city beach, is a haven for wealthy city inhabitants looking to unwind from their hectic life. The sandy beach, which is sandwiched between two steep cliffs, is a popular hangout for tourists, local youths, and families. During the summer, the beach's swimming pools and surf schools are packed with tourists looking to cool down from the scorching heat.
With sophisticated restaurants and nightclubs stretching out onto the sand, things can get pricey here. The best time to visit the coastline of this lively and bustling city is during the week when things are a little quieter, or early on the weekend when things are a little quieter.
Sit in one of the beachside cafes with a nice drink and watch the city's residents jog, walk, meet friends, and play in the surf and sand for a few hours.
.